We're thrilled to introduce Transient Shaper, our latest free addition to the Virtual Mix Rack ecosystem. Perfect for tightening drums, boosting bass hits, taming string instrument peaks and gluing sounds together, Transient Shaper is a must-have tool for producers of any genre or experience level.
Though Transient Shaper lives inside the Virtual Mix Rack, you don't have to be an analog loyalist to make it sing. Transient Shaper is an incredibly flexible sound sculptor that gives you precise control across the entire frequency range of your source.
How Does It Work?
Transient Shaper does exactly what you expect—and more.
The plugin gives you control over both the transient and sustain of your source sound. Its interface is split into three processing sections: Transient, Sustain, and Output.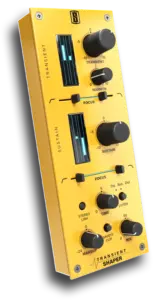 The Transient section features a Gain control to adjust the gain of detected transients. Transient detection is level independent, so you can change the overall level of the track without affecting its behavior. The Warmth knob then adds saturation to the transient. This control is independent from the Gain, so you can add bite to your sound without maxing out your levels.
The Sustain section features a Gain knob of its own that will either boost or cut the detected tail of your sound. The Transient and Sustain sections are also equipped with Focus sliders that filter the signal and sidechain signal being processed.
The Output section has its own set of parameters. The Time knob lets you adjust the length of the detected transient or tail of your sound, and the Listen button routes a specific signal path to the output: Transient, Sustain or Out, with all the different processes applied to each portion.

Check out the official trailer below for a quick preview of the plugin, then click here to learn more.
Transient Shaper is available now in Virtual Mix Rack, exclusively in the All Access Pass. To learn more, click here.