https://www.youtube.com/watch?v=1biG0s8fgeY
VIRTU™, a new web-based assisted mastering service from Slate Digital, is the final step of your music-making journey. Combining the trusted technology and expertise of Slate Digital with curated Style profiles and easy-to-use Advanced Controls to deliver a streaming-ready master, VIRTU takes the guesswork out of mastering. Give your mix the clarity, space, and depth it deserves to make it sound as good as any song on the charts.
Hear the Difference with VIRTU
Bring clarity and space to your mix, and loudness to your track
Whether you're mastering a Top 40's hit, a country ballad, a booming trap beat or anything in between, VIRTU can give you a polished, pro result. Use the Style preset that matches your Genre or mix and match.
Professional Masters In Minutes
Upload Your Mix
First, import the final bounce of a stereo WAV file mix. VIRTU will then quickly analyze your track to optimize the mastering process.
Select Style & Loudness
Select the 'Style' that best suits your track and choose one of the three loudness targets. You can also access a set of advanced controls to adjust the frequency balance, compression and stereo width of your master.
Preview & Print
Once you've selected your desired settings, you can preview 15 seconds of mastered audio before you commit. If you like what you hear, click 'Master' to process your entire track, then download it from the library!
Expertly-Crafted, Curated Curves
Give your track the final touch it deserves. Virtu lets you take the wheel of your own mastering process with the Advanced Controls and dial it in to taste. The EQ curves and compression algorithms have been calibrated by Slate Digital's team of experts by hand (and ear), and take inspiration from some of our most beloved emulations, like FG-Dynamics, FG-2A, and FG-Stress.
Intelligent analysis delivers Peak perfection
VIRTU's intelligent mastering process is sensitive to each track. During the analysis phase, it measures key signal properties (i.e. Peak, RMS, and Average) on different frequency bands to retrieve information about the tonal balance, loudness, and dynamic range of the track. That information helps determine the set EQ curves, multiband compression ratio & threshold, limiter gain, and other key parameters that will define your final master.
The frequency balance section lets you make final adjustments to the overall EQ profile of your track. You can either boost or cut both the highs and lows of your master, or leave the end result unaffected to retain the sonic character of your original mix.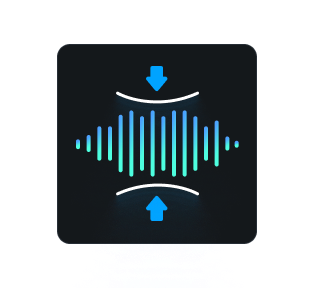 The compression setting lets you adjust overall compression level of the track. If you want a more neutral result, leave the compression balanced. If you want some extra punch or you're looking for a more in-your-face master, the 'Punch' or 'Aggressive' settings are your best bet.
Add some extra width to your master with the stereo widening tool. You can choose to either leave the end result relatively unaffected with the default 'Balanced' setting, or you can introduce even more dimension with the 'Wider' setting.
All Access Pass. Go From demo to Done.
The All Access Pass is everything you need to record, mix and master your music.
The All Access Pass (AAP) is loaded with tools like Virtual Mix Rack, Virtual Tape Machines, MetaTune and more that give you all the sonic firepower you need to nail the perfect mix—and VIRTU is the best way to move your mix across the finish line. VIRTU's intelligent processing takes cues from Slate Digital products you know and trust to deliver a comprehensive yet streamlined and easy-to-use "last step" of your music making process.
TEC BEATZ
"VIRTU is a great tool to help you learn what goes into mastering and what to ask for from an engineer."
Play Video
PLAY
SEIDS
"My mix sounds so much clearer, you can hear so much more of the track. I'd definitely use this as a final master."
Play Video
PLAY
What's Included with VIRTU
3 Free monthly masters
All Access Pass members start each month with three mastering credits in their account (36 WAV files per year). Free trial members also receive three mastering credits, which can be used at any time during their 30-day trial period.
30 days of Cloud Storage
Once your track is mastered, it will live in VIRTU's cloud library for 30 days. You can download, rate, and remaster these tracks for the duration of time they exist in the library. Once the 30 days have elapsed, the master will disappear.
Go Unlimited
Only $2.99 Each
All Access Pass members can purchase additional mastering credits for $2.99 each. Extra credits are a cost-effective way to remaster individual tracks as you see fit, or to generate a full project's worth of lossless masters without breaking the bank.
"VIRTU generates high-quality, studio-grade masters that are instantly ready for distribution to any of the major streaming platforms. If you're new to the world of mixing and mastering or you just want a SEAMLESS way to get your latest song out to the world, this is the tool for you."
"VIRTU checks all the boxes, giving you some powerful options to create a great sounding result with an intuitive interface. Super impressed."
"Virtu is a great tool that provides the 'glue', low end punch, and radio-ready finish I'm looking for when mastering tracks. The interface is intuitive and user-friendly, and I really like that there are some options for personalizing your final EQ, compression and width settings. This platform can be used successfully by anyone, even without extensive knowledge of mastering."
Using VIRTU For Your Mix
Watch Reid Stefan show you how quickly VIRTU generates a studio-standard master.

Mastering Bass-Heavy Tracks
Alex Rios uses VIRTU to achieves a competitive master of a new reggaeton track.
Smart track analysis studies your song's dynamic range and tonal properties

Intelligent genre profiles dial in sonic characteristics and tonal balance of your track

Advanced processing options to refine EQ, compression and width of your master

Track ratings let you leave notes/feedback on your masters

Studio-grade clarity, detail and loudness with no loss in quality

Lossless master files perfect for distribution, live testing or as reference tracks

Instantly ready for streaming on Apple Music, Spotify, etc.
Supported format: WAV, stereo only. Mono files are not supported

Recommended sample rates: 44.1kHz, 48kHz

Maximum file size/duration: 200MB / 15 minutes

Minimum duration : 1 second 2 Subscriptions for the Price of 1
Offer ends December 11th, 2023
GET COMPLETE ACCESS
$14.99/mo
Reg. $19.99/mo
Annual Paid Monthly
Local taxes apply
NEW SUBSCRIBERS
Already have an All Access Pass?
Click below to upgrade.
BEST DEAL / 2 MONTHS FREE
GET COMPLETE ACCESS
$149.99/yr
Reg. $199.99/yr
Annual Paid Upfront
Local taxes apply
NEW SUBSCRIBERS
Already have an All Access Pass?
Click below to upgrade.
Current Subscriber Upgrades
Already have an account? Upgrade here.
What is Included in Complete Access
Slate Digital All Access Pass
Over 80 of the most prestigious, award winning processing and creative plug-ins, worth over $7,000, including the powerful ANA synth and MetaTune vocal tuning, including access to all future plug-ins in the All Access Pass subscription
Thousands of royalty free audio samples and exclusive boutique sample packs with presets
Access to hundreds of professional tutorials from leading producers and educators via Slate Academy
VIRTU™ assisted mastering service – create studio-grade masters ready for distribution
Learn more about All Access Pass>
+
Solid State Logic SSL Complete
Over $5,000 worth of the most prestigious Solid State Logic modelled consoles, compressors, equalisers, reverbs and delays, as used on decades of the world's biggest selling music recordings, including access to all future plug-ins in the SSL Complete subscription
Legendary SSL console Channel Strips including the 9000K and 4K B, plus the celebrated Stereo Bus Compressor from the UK's mixing company that revolutionized the recording industry
New Harrison Audio plug-ins direct from the music hitmakers in Nashville, USA
Access to professional tutorials and 'how-tos'' from leading producers and engineers
Learn more about SSL Complete>