Not Just A Delay.
EVERY DELAY
The delay is one of the most fundamental effects used in audio production, as it can add depth, space, excitement, and vibe to your mixes. Over the past fifty years there have been many different kinds of delays, from oil cans and tape machines to digital units, and each one has its own unique character and sound. So when it came time to create a delay plugin, we knew which delay unit we needed to model: ALL OF THEM!
Repeater Delay features 23 authentic emulations of classic delay machines ranging from classic oil cans and tape machines to vintage digital designs – it's packed with sounds and new features that will add depth to your mixes, and it comes with a user interface that's immediately easy to understand and tweak.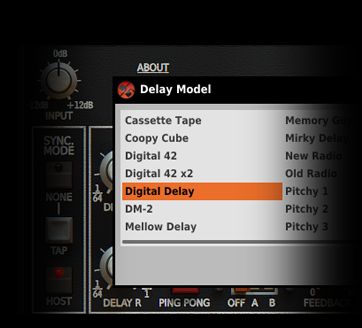 Multiple Delay Personalities
Repeater's 23 delay models offer you a versatile delay palette, as well as some amazing special effects like authentic pitch, telephone, and vintage tape tones. Whether you want a bold echo, a subtle wide space or a classic tape slapback, Repeater Delay has you covered. You'll be able to find the right delay for the right situation, every time.
Repeater's SPREAD option can help you easily create wide stereo delays with the touch of a button. Just choose your delay note or ms value, and then SPREAD can automatically deviate the delay lines by either 10ms or 20ms, as well as automatically panning the delays left and right. SPREAD can help you utilize Repeater's delay tones to make complex soundscapes.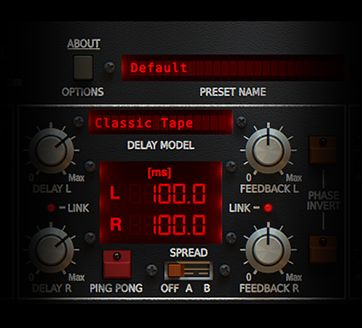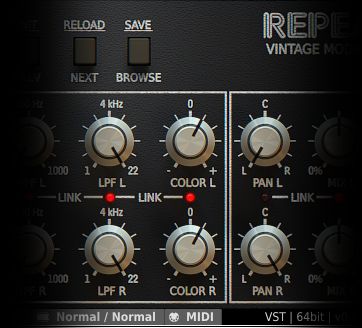 Repeater Delay makes it easy to move your delay repeats forward or bury them in the mix using the Color control, which can act like an upper-midrange filter. You can customize your delay with hi and low pass filters, and the plugin also utilizes an input saturation section before the delay engine, so a wide variety of warm saturations is easy to achieve.
Analog-Modeled Feedback Circuit
Engaging the Analog button sends all of the repeats back through analog-modeled circuitry to further enhance the gradual dimming and degrading of the sound as the decays die off. The Analog button makes the delay tones "melt" into the mix, and it sounds incredible on vocals and guitars!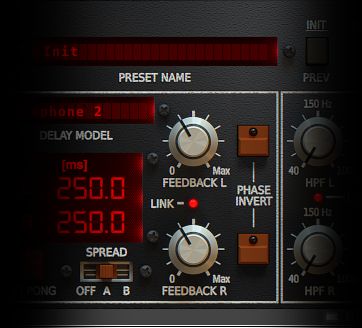 "So many incredible flavors of delay, this plugin is so fun!"
Kyle Hoffman | NRG Studios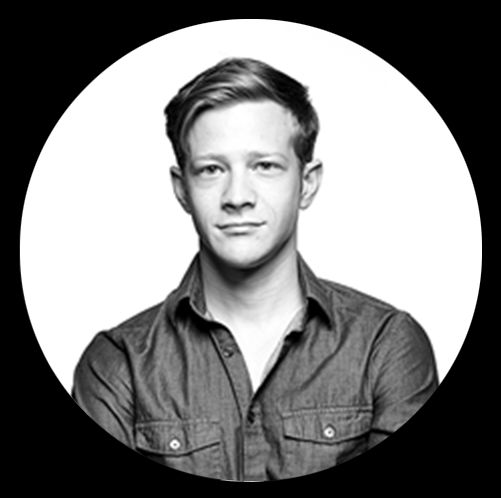 GET IT IN THE
ALL ACCESS PASS
THOUSANDS OF DOLLARS WORTH OF AWARD-WINNING PLUGINS, THE INDUSTRY'S MOST GAME-CHANGING SYNTHESIZER,
AND THE INDUSTRY'S TOP ONLINE MUSIC PRODUCTION SCHOOL TAUGHT BY LEGENDARY PROS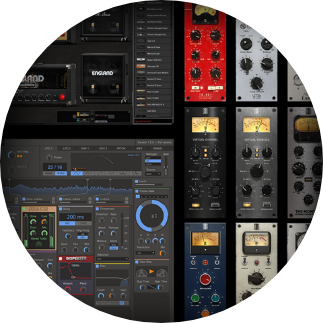 Thousands of Dollars of Award-Winning Plugins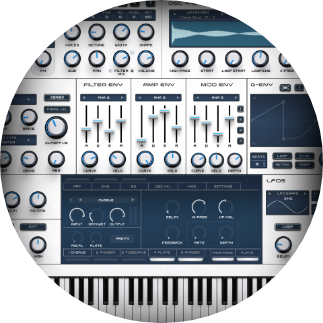 Industry's Most Game-Changing Synthesizer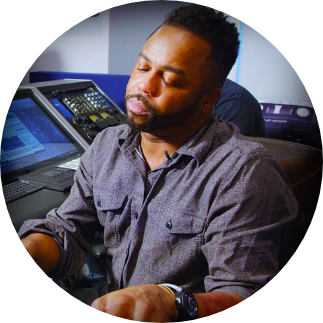 Masterclass Courses with the World's Top Pros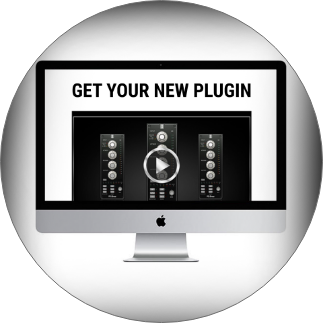 All New Plugins and Updates, FREE 2 Subscriptions for the Price of 1
Offer ends December 11th, 2023
GET COMPLETE ACCESS
$14.99/mo
Reg. $19.99/mo
Annual Paid Monthly
Local taxes apply
NEW SUBSCRIBERS
Already have an All Access Pass?
Click below to upgrade.
BEST DEAL / 2 MONTHS FREE
GET COMPLETE ACCESS
$149.99/yr
Reg. $199.99/yr
Annual Paid Upfront
Local taxes apply
NEW SUBSCRIBERS
Already have an All Access Pass?
Click below to upgrade.
Current Subscriber Upgrades
Already have an All Access Pass? Upgrade here.
What is Included in Complete Access
Slate Digital All Access Pass
Over 80 of the most prestigious, award winning processing and creative plug-ins, worth over $7,000, including the powerful ANA synth and MetaTune vocal tuning, including access to all future plug-ins in the All Access Pass subscription
Thousands of royalty free audio samples and exclusive boutique sample packs with presets
Access to hundreds of professional tutorials from leading producers and educators via Slate Academy
VIRTU™ assisted mastering service – create studio-grade masters ready for distribution
Learn more about All Access Pass>
+
Solid State Logic SSL Complete
Over $5,000 worth of the most prestigious Solid State Logic modelled consoles, compressors, equalisers, reverbs and delays, as used on decades of the world's biggest selling music recordings, including access to all future plug-ins in the SSL Complete subscription
Legendary SSL console Channel Strips including the 9000K and 4K B, plus the celebrated Stereo Bus Compressor from the UK's mixing company that revolutionized the recording industry
New Harrison Audio plug-ins direct from the music hitmakers in Nashville, USA
Access to professional tutorials and 'how-tos'' from leading producers and engineers
Learn more about SSL Complete>
PREMIUM SLATE PLUGIN,
PERMANENT PLUGIN LICENSE,
INSTANT DOWNLOAD,
AUTHENTIC ANALOG MODELING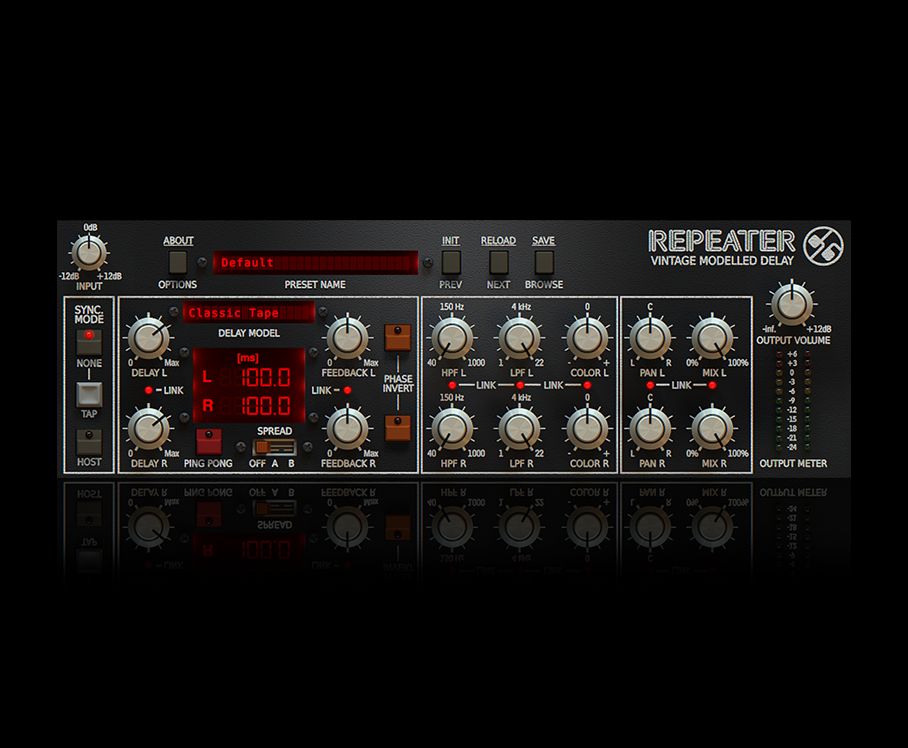 Minimum: macOS 10.15 or later
Recommended: macOS 11 or later
Intel or Apple Silicon (M1) Processor
AU, VST2, VST3, or AAX 64-bit host
Windows 10 or 11
Intel or AMD Processor, 4GB RAM
VST2, VST3, or AAX 64-bit host
iLok Requirements
The All Access Pass can be used with iLok Cloud and does not require an iLok USB dongle. You will just need an active internet connection to use iLok Cloud.
Perpetual "Buy Now" individual plugin licenses require an iLok 2 or iLok 3 USB dongle.