Lustrous Plates recreates the beautiful tone of seven classic plates reverbs using LiquidSonics' new Temporal Acoustic Spectral Mapping (TASM) technology.
Powered by Fusion-IR | Synthesis, Lustrous Plates is a rich and luxurious contemporary plate design with seven distinctive models. TASM uses a proprietary multi-band dynamic capture and analysis method which allows an unprecedented frequency specific profiling of the plate's natural decay, which is then mapped into an advanced reverb synthesis algorithm, so that it not only achieves the beautiful decay of real acoustic plates, but also gains the benefit of having classic algorithmic reverb parameters which allow fine tuning in ways that you've never been able to do with any other plate emulation.
Lustrous Plates comes with a selection of professionally-designed presets for a wide range of sources including drums, guitars, vocals and strings so you can quickly find the ideal plate for your track.
GET LUSTROUS PLATES AND EVERYTHING ELSE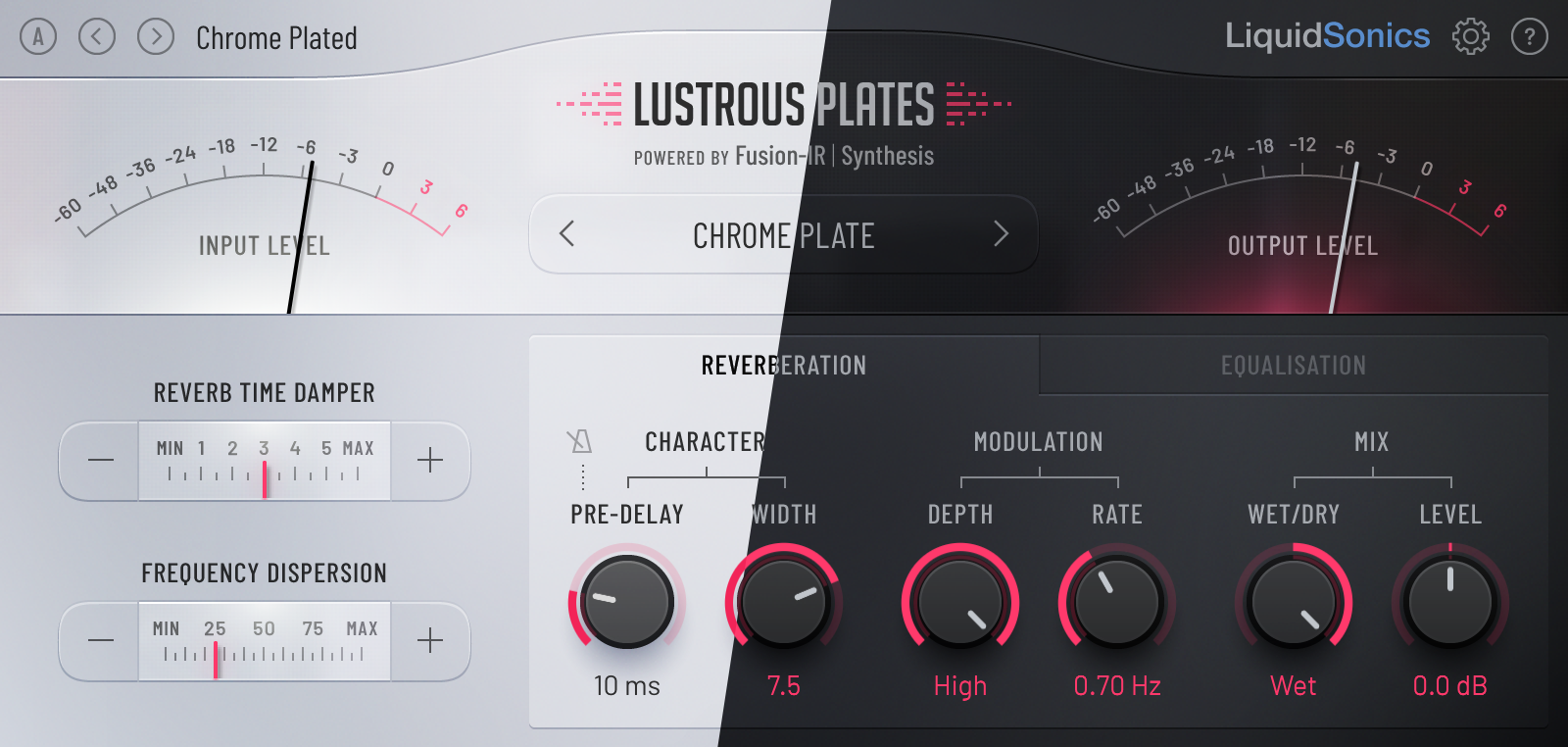 INTRODUCING TEMPORAL ACOUSTIC SPECTRAL MAPPING
Each of the seven plate designs has the unique timbral and multi-band decay characteristics of an actual plate, modeled using LiquidSonics' proprietary Temporal Acoustic Spectral Mapping (TASM) technology.
Combined with the power of Fusion-IR Synthesis, this technique generates a natural, high-quality plate simulation with the defining acoustic characteristics of the modeled plates and a reverberant fidelity usually only associated with the highest quality hardware reverbs.
All seven plate models have a distinctive and realistic reverberant tone to them:
Chrome: a rich, full-bodied plate with a classic multi-band decay profile
Silver: a light, airy plate with de-emphasized low-mids for enhanced clarity
Steel: similar to the chrome plate with a reduced low band decay time
Rhodium: bright and rich with a neutral decay profile
Beryllium: a reflective, lustrous, metal-based plate with a bright tone
Corbomite: a dense and heavy plate
Iridium: dense, with a highly-emphasized low decay profile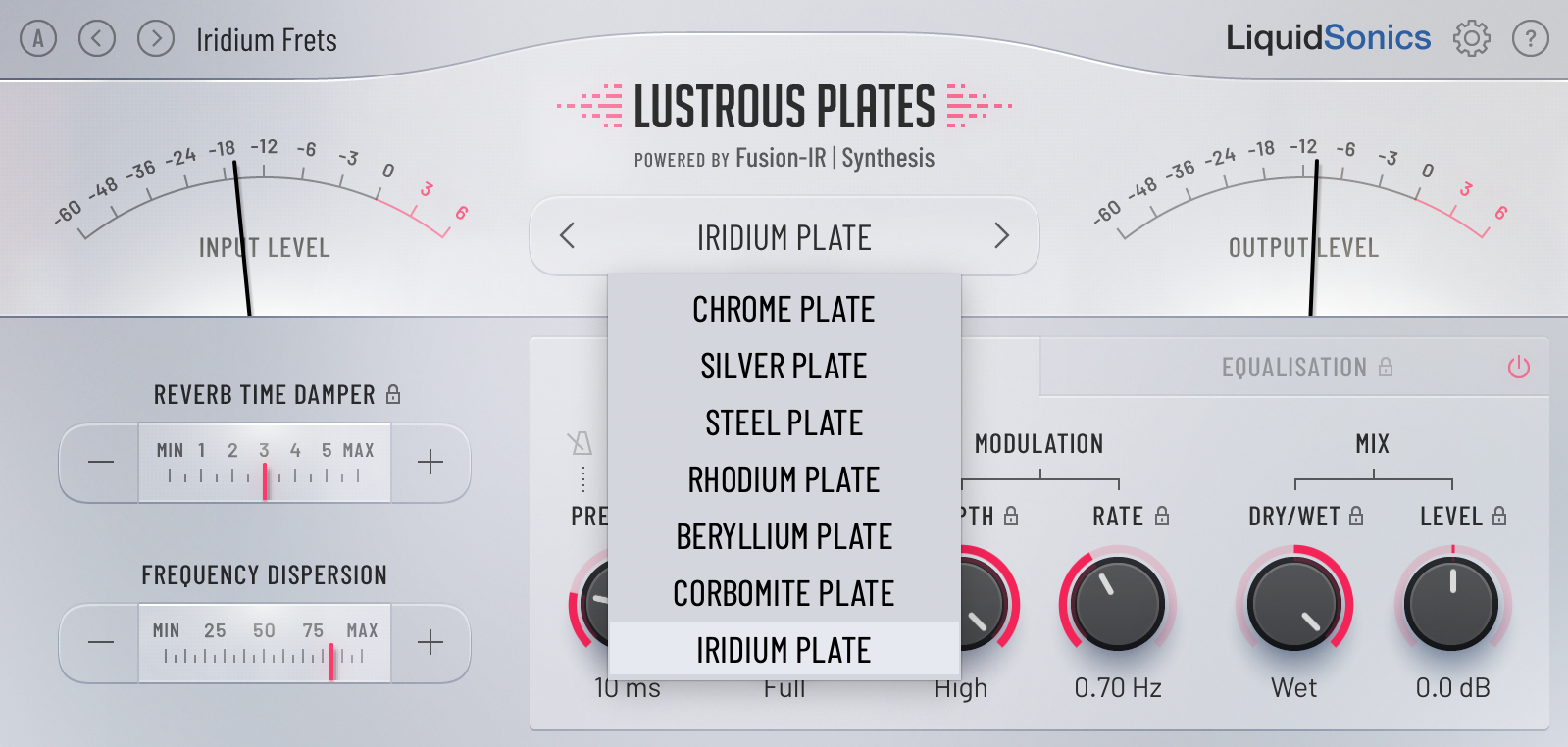 FAITHFULLY MODELED FREQUENCY DISPERSION
The amount of simulated dispersion for each plate in Lustrous Plates is controllable via a single 'frequency dispersion' parameter for quick and powerful results!
The dispersion of frequencies within a plate reverb plays a critical role in its sound. It's one of the key reasons why a plate reverb sounds so distinctive, especially in the way it can impact transients. A plate's whip-like onset is especially audible with percussive material and is very well suited to guitars and vocals as well.
Sound travels through a metal plate at different speeds depending on its frequency. The plate then temporally disperses sound by delaying different frequencies by different amounts. Low frequencies travel relatively slowly through the metal and are delayed more than high frequencies.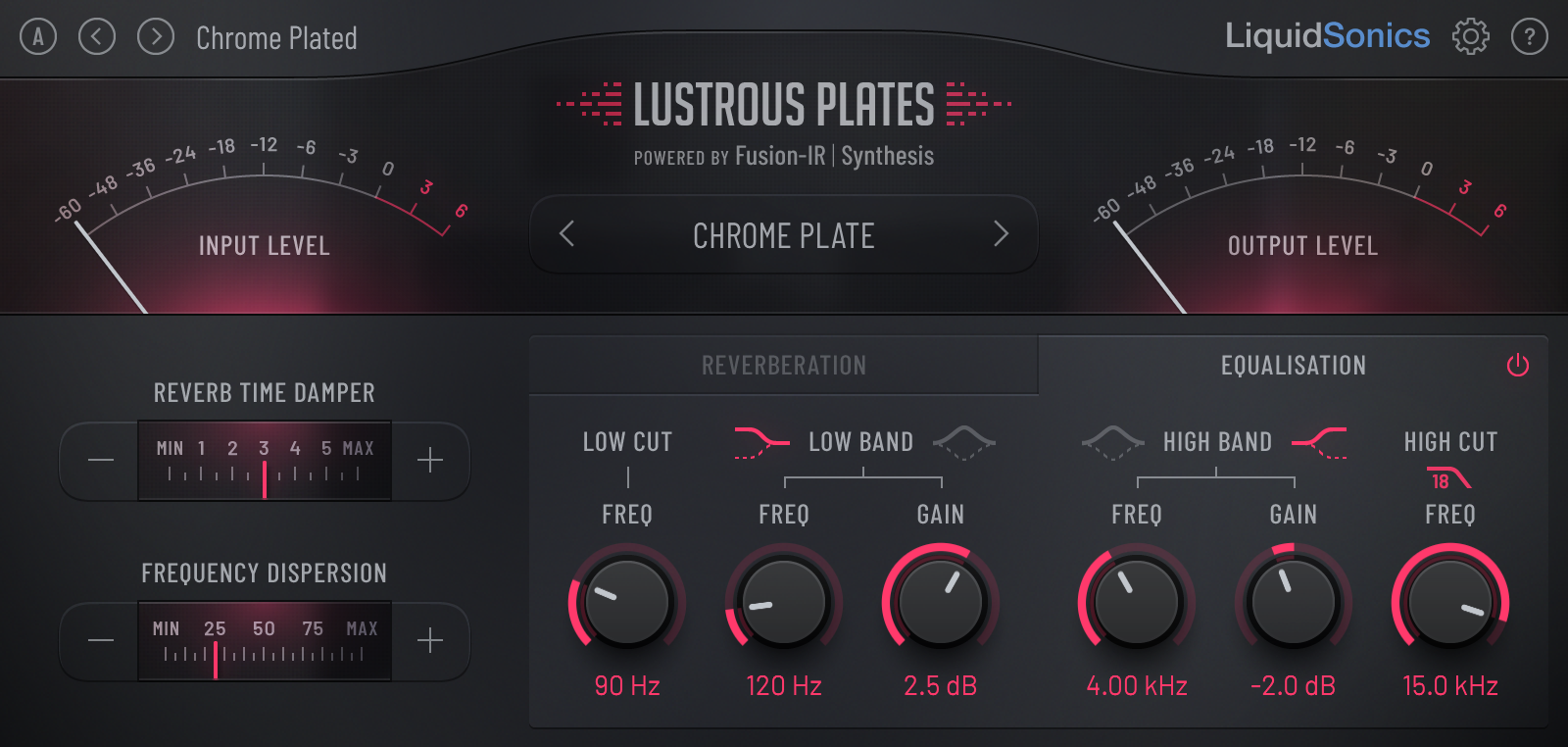 POWERFUL REVERBERATION CONTROL
MODULATED REVERB
Lustrous Plates' Fusion-IR Synthesis engine is capable of fully modulating its reverb in a very natural, organic manner. It does not induce any unrealistic chorusing or other colorations of the reverb and does not compromise the decay profiling in any way. The amount of modulation can be controlled from low to high with the depth control, and the speed of modulation is set using the rate control. Modulation can be bypassed entirely by setting the rate to its minimum value resulting in a traditional static reverb.
RHYTHMIC REVERBERATION
The pre-delay of the reverb can be set in milliseconds, or click the metronome button to set it relative to the current project tempo to sync the reverb to the beat of the song.
A UNIQUE WIDTH CONTROL
The sense of space generated by Lustrous Plates is controlled as much by its width as by its length. The reverberation generation algorithm employed by Lustrous Plates is capable of producing mono and fully-decorrelated true stereo spaces or anything in between. In true stereo, it presents an optimally wide image without any phase or mono-compatibility concerns. For sources that do not require such a high degree of perceptual space around them, the width can be progressively collapsed down from true stereo down to mono, giving a high degree of control over how the reverb sits within the mix.
PARAMETRIC FILTERING
Lustrous Plates provides low and high cut filters, as well as switchable bell/shelf bass and treble filters.
GET IT IN THE
ALL ACCESS PASS
THOUSANDS OF DOLLARS WORTH OF AWARD-WINNING PLUGINS, THE INDUSTRY'S MOST GAME-CHANGING SYNTHESIZER,
AND THE INDUSTRY'S TOP ONLINE MUSIC PRODUCTION SCHOOL TAUGHT BY LEGENDARY PROS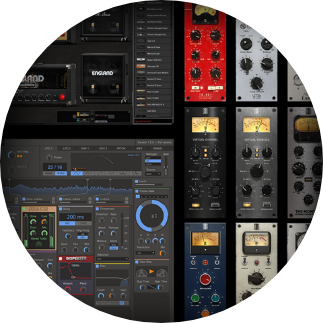 Thousands of Dollars of Award-Winning Plugins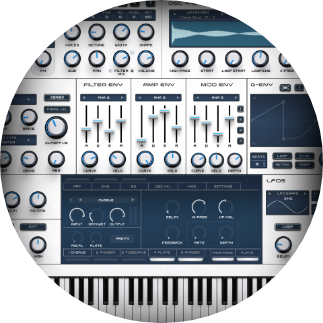 Industry's Most Game-Changing Synthesizer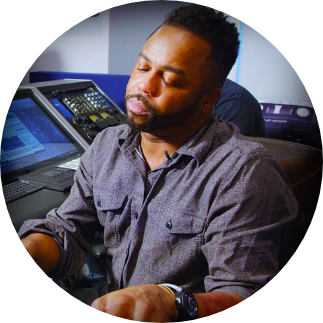 Masterclass Courses with the World's Top Pros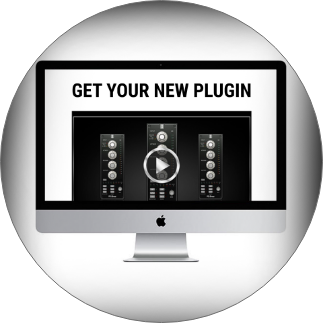 All New Plugins and Updates, FREE
Flexible Pricing

Options

Select the plan that works best for you.
12 Months Commitment
$5,000 Worth of top plugins
Every Slate Digital Plugin
Top Third-Party Plugins
Every New Plugin Release
Game-Changing Synth
Unlimited Slate Academy Access
Never-Ending Free Courses & Updates
BEST DEAL
Prepay for the Year
$5,000 Worth of top plugins
Every Slate Digital Plugin
Get 2 months FREE
Top Third-Party Plugins
Every New Plugin Release
Game-Changing Synth
Unlimited Slate Academy Access
Never-Ending Free Courses & Updates