A perfect recreation and a custom mod of the most
highly sought after Rev A Blue FET Compressor
FG-116 Blue Series FET Compressors
The FG-116 Blue Series authentically recreates the tone of two vintage "rev A" FET limiting amplifiers, and then offers two uniquely modernized versions of the classic FET circuit. With vintage and modern tones and clever features like hi pass detection and a parallel mix knob, the Blue series can be used all across your mixes.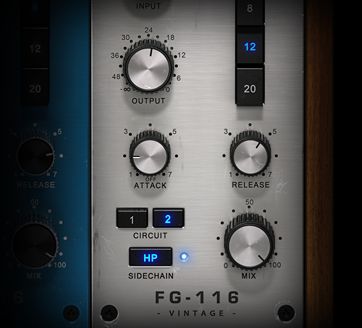 Circuit 1 has the classic 'mid-forward' character that made the blue-striped FET compressors so famous. It adds a wonderful coloration to the upper midrange especially, and adds a warm presence to vocals, bass, drums, and guitars. It will have a softer top and bottom end compared to the Black 116, and more articulate transients due to the harmonic distortion in the midrange.
Circuit 2 is modeled after a "rev A" unit that had been updated and refurbished, and had a very unique and musical sound. This model has much bigger lows and smoother mids and highs compared to Circuit 1, making it sound amazing on drum room mics, as well as vocals that need to have more 'bigness' and don't require the midrange push of Circuit 1.
Circuit 1's attack is slow enough that this compressor can sound amazing on close drum mics when set to the slowest attack and fastest release – try it on a snare to bring out the punch while extending the decay. Bass guitars can take on a very edgy sound on this same setting, and by backing down the release you'll start to tighten things up (which can be great on kick drum too).
Circuit 2 will have a more breathable and punchy bottom end and overall smoother response on the top end. It sounds amazing on a drum buss with the Hi Pass filter engaged, and even full mixes can really benefit from this musical compressor! Yes, with the Blue Modern – with the attack on the slowest and release on fastest and with the HP filter on – you can use it on full mix! Compress about 10db, then back off the mix knob to about 25% for incredible energy and excitement.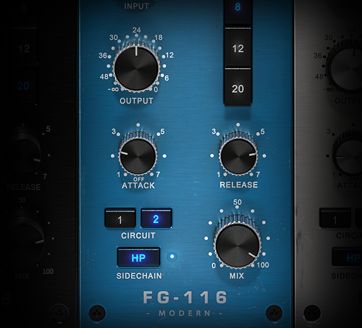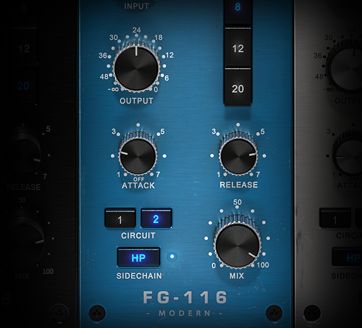 The FG-116 Blue Series Compressors take the guesswork and setup out of parallel compression techniques by offering a Mix control. By dialing in heavy amounts of compression but dialing the mix back to 25%, you can enhance the punch of your drum tracks without making them feel overly compressed. The Hi Pass filter allows the compressor to ignore low frequencies, retaining low frequency impact while still controlling the dynamics.
GET IT IN THE
ALL ACCESS PASS
THOUSANDS OF DOLLARS WORTH OF AWARD-WINNING PLUGINS, THE INDUSTRY'S MOST GAME-CHANGING SYNTHESIZER,
AND THE INDUSTRY'S TOP ONLINE MUSIC PRODUCTION SCHOOL TAUGHT BY LEGENDARY PROS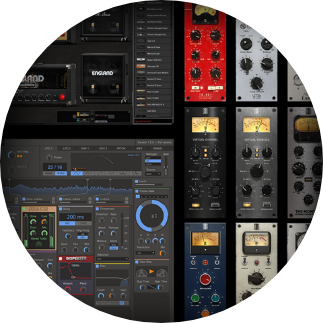 Thousands of Dollars of Award-Winning Plugins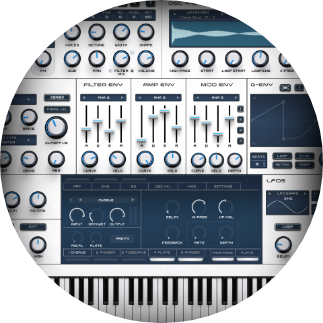 Industry's Most Game-Changing Synthesizer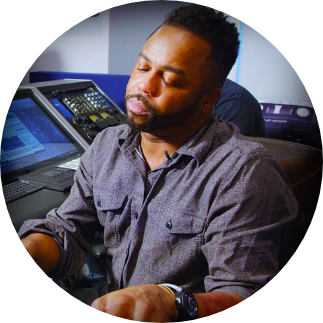 Masterclass Courses with the World's Top Pros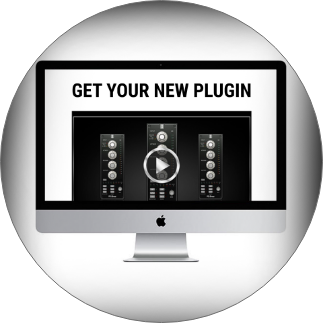 All New Plugins and Updates, FREE 2 Subscriptions for the Price of 1
Offer ends December 11th, 2023
GET COMPLETE ACCESS
$14.99/mo
Reg. $19.99/mo
Annual Paid Monthly
Local taxes apply
NEW SUBSCRIBERS
Already have an All Access Pass?
Click below to upgrade.
BEST DEAL / 2 MONTHS FREE
GET COMPLETE ACCESS
$149.99/yr
Reg. $199.99/yr
Annual Paid Upfront
Local taxes apply
NEW SUBSCRIBERS
Already have an All Access Pass?
Click below to upgrade.
Current Subscriber Upgrades
Already have an All Access Pass? Upgrade here.
What is Included in Complete Access
Slate Digital All Access Pass
Over 80 of the most prestigious, award winning processing and creative plug-ins, worth over $7,000, including the powerful ANA synth and MetaTune vocal tuning, including access to all future plug-ins in the All Access Pass subscription
Thousands of royalty free audio samples and exclusive boutique sample packs with presets
Access to hundreds of professional tutorials from leading producers and educators via Slate Academy
VIRTU™ assisted mastering service – create studio-grade masters ready for distribution
Learn more about All Access Pass>
+
Solid State Logic SSL Complete
Over $5,000 worth of the most prestigious Solid State Logic modelled consoles, compressors, equalisers, reverbs and delays, as used on decades of the world's biggest selling music recordings, including access to all future plug-ins in the SSL Complete subscription
Legendary SSL console Channel Strips including the 9000K and 4K B, plus the celebrated Stereo Bus Compressor from the UK's mixing company that revolutionized the recording industry
New Harrison Audio plug-ins direct from the music hitmakers in Nashville, USA
Access to professional tutorials and 'how-tos'' from leading producers and engineers
Learn more about SSL Complete>
PREMIUM SLATE PLUGIN,
PERMANENT PLUGIN LICENSE,
INSTANT DOWNLOAD,
AUTHENTIC ANALOG MODELING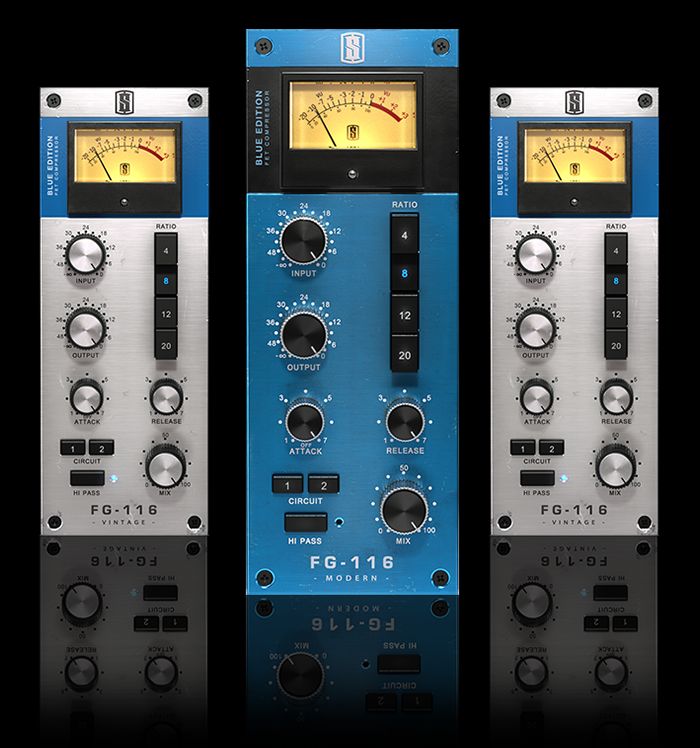 Minimum: macOS 10.15 or later
Recommended: macOS 11 or later
Intel or Apple Silicon (M1) Processor
AU, VST2, VST3, or AAX 64-bit host
Windows 10 or 11
Intel or AMD Processor, 4GB RAM
VST2, VST3, or AAX 64-bit host
iLok Requirements
The All Access Pass can be used with iLok Cloud and does not require an iLok USB dongle. You will just need an active internet connection to use iLok Cloud.
Perpetual "Buy Now" individual plugin licenses require an iLok 2 or iLok 3 USB dongle.