JOIN US
Help us create the future of audio technology
Slate Digital is internationally located in Los Angeles, USA and Grenoble, France.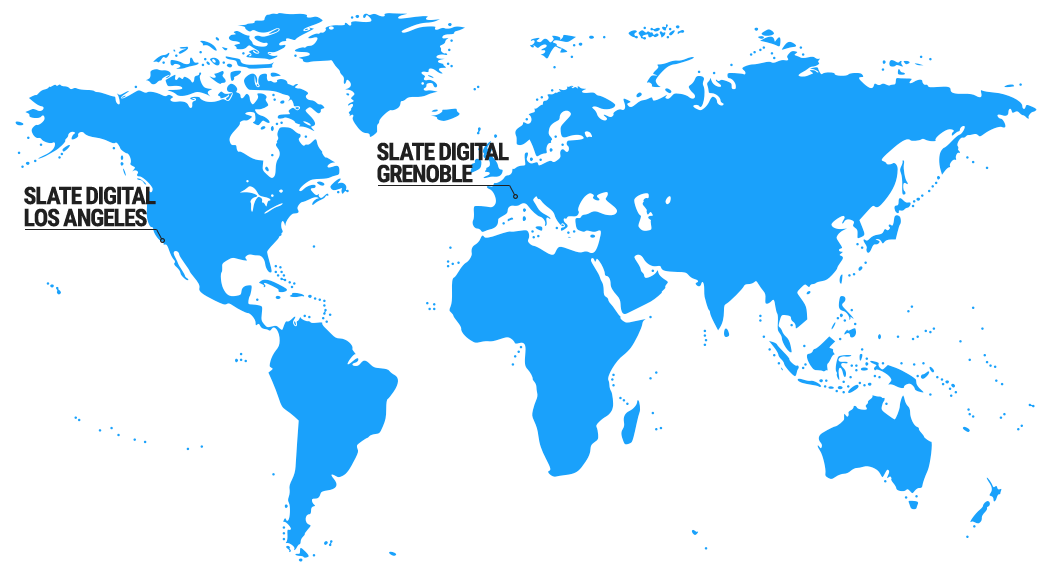 Nestled at the base of the Hollywood Hills, just blocks from Universal Studios and the heart of Hollywood, Slate Digital LA thrives on the cutting edge where tech and musicality intersect. Collectively, we pride ourselves on high-caliber innovation, ingenuity and game changing music software.
We value a fun, energetic, and diverse office culture where the creative current flows constantly. Motorized standing desks, boutique coffee & espresso, and fruits + snacks are just a few of our daily perks. A truly collaborative and purposeful team environment is our daily mission.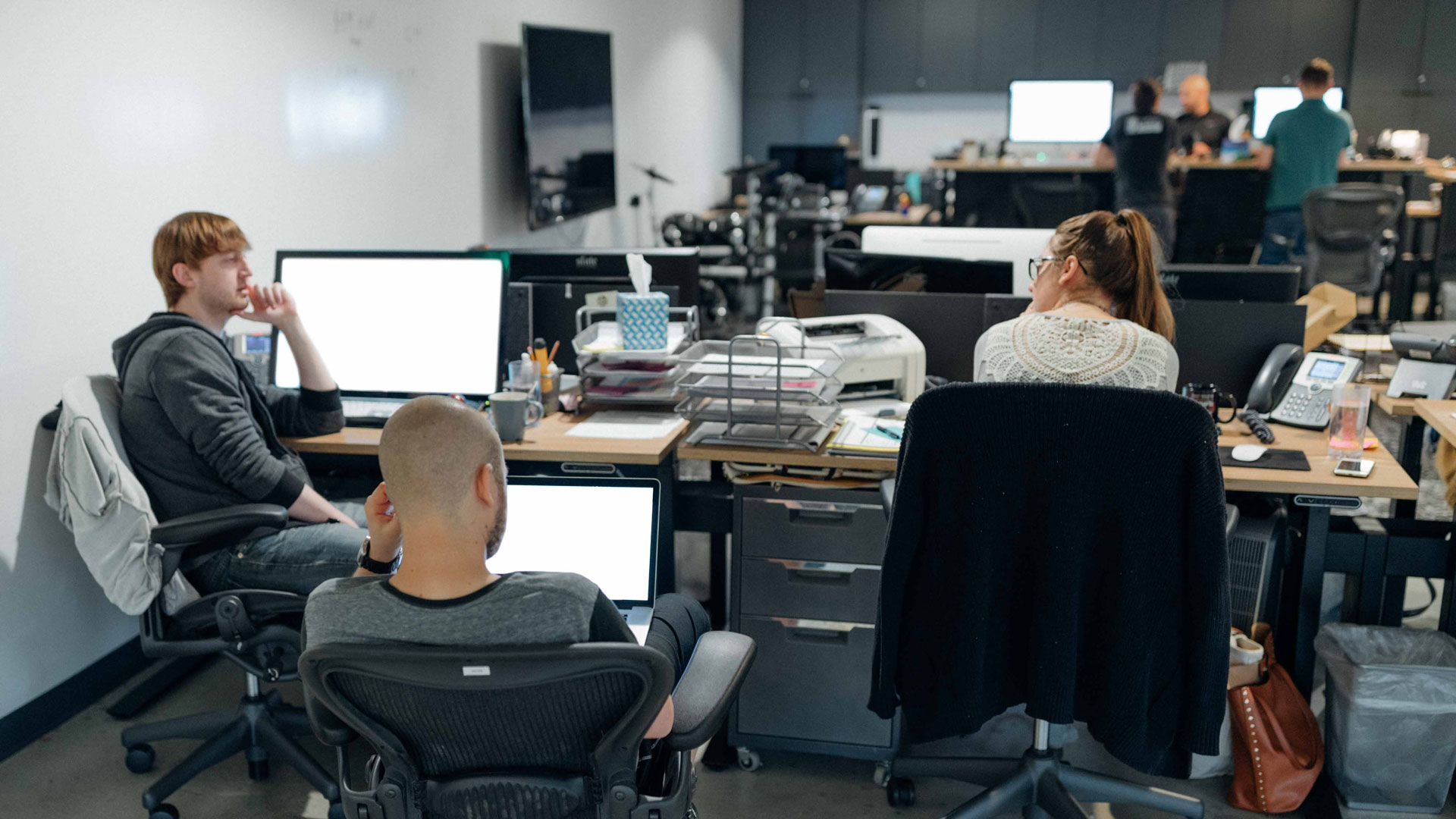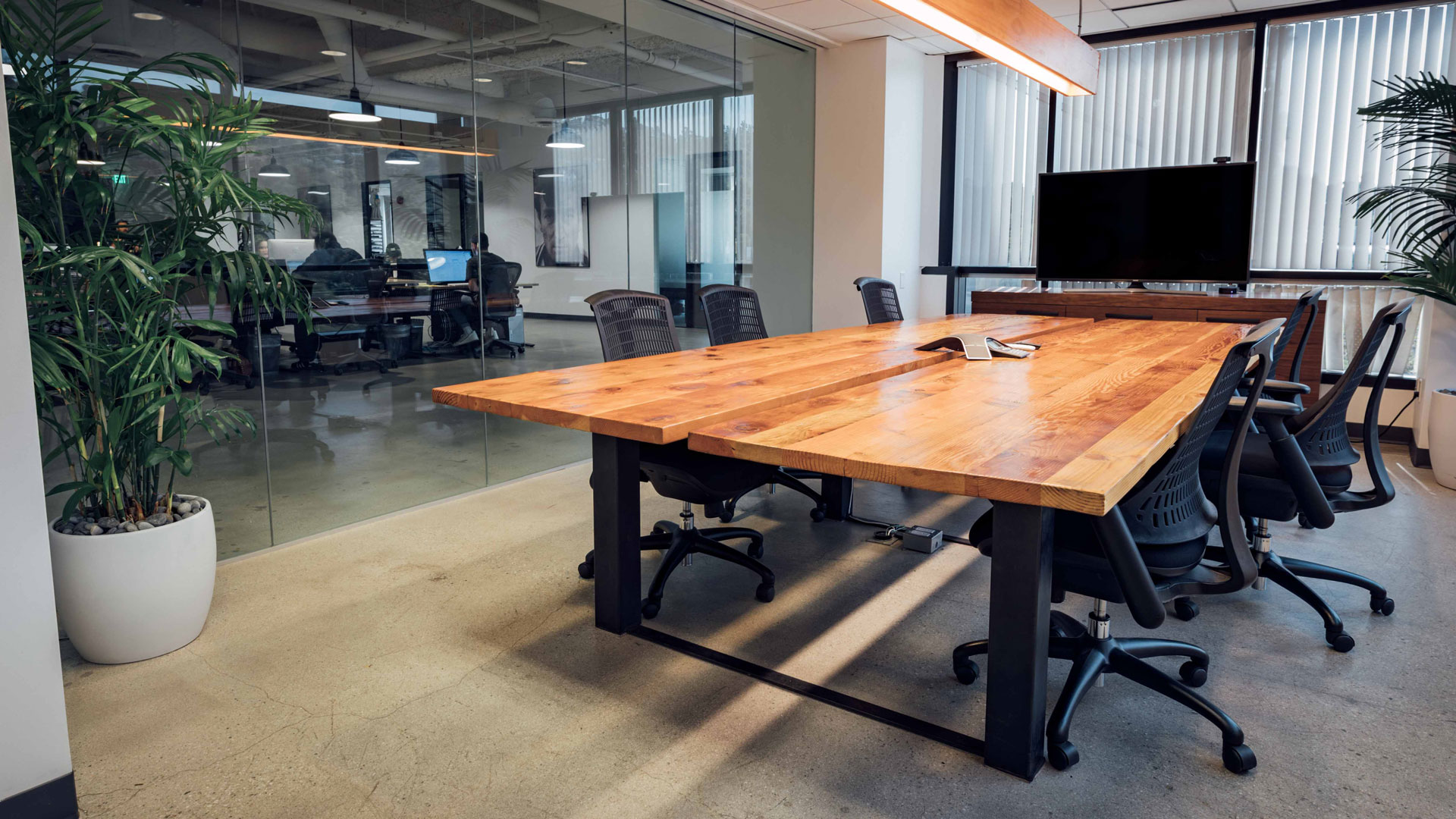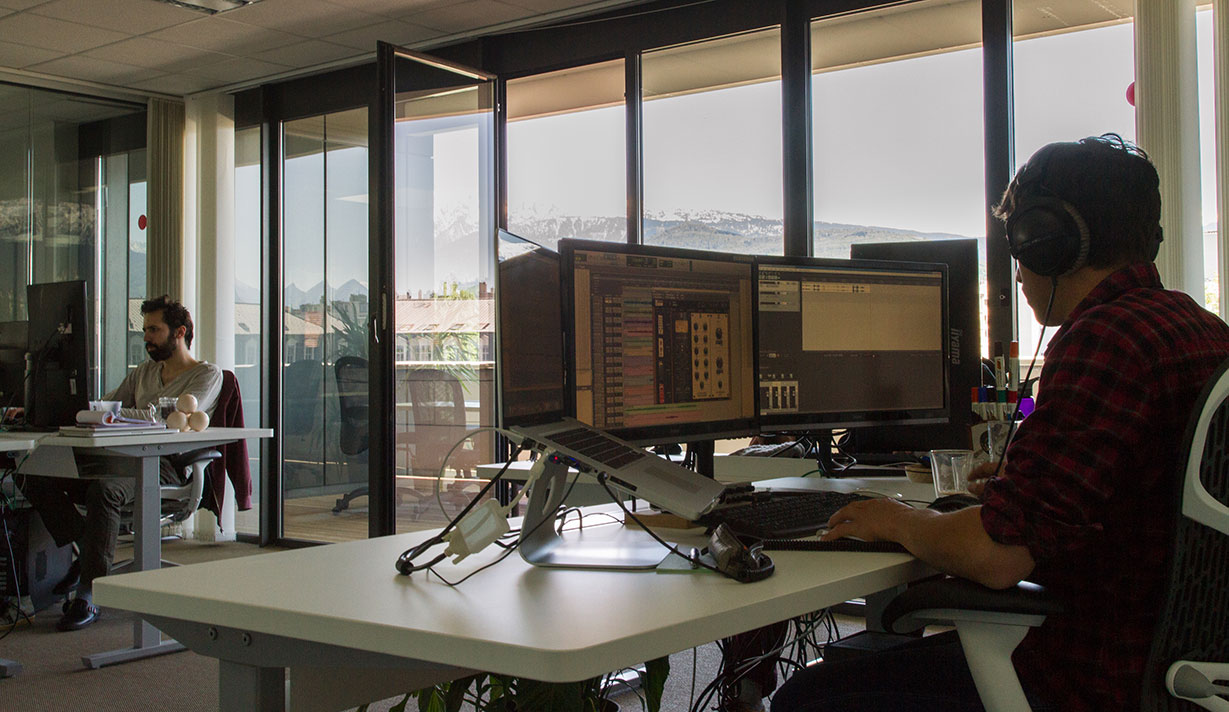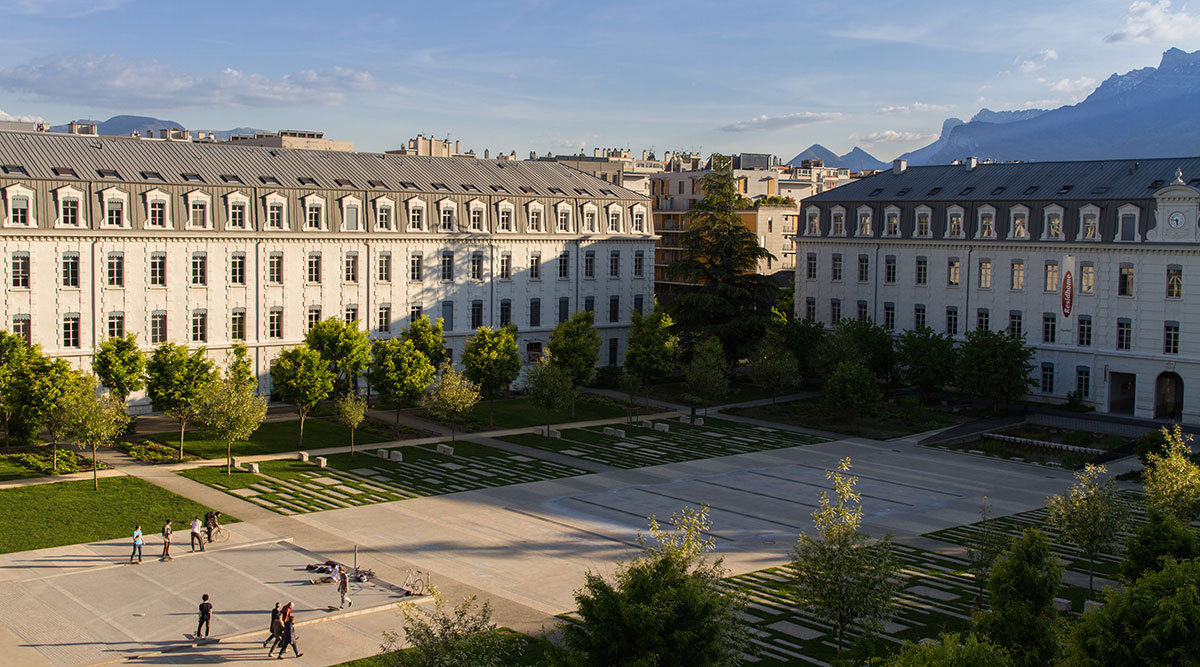 Our offices are ideally located in the center of Grenoble, surrounded by a dynamic area, with shops, restaurants and parks.
The city is a technology hub with tech companies and startups, labs and universities (60,000 students) focused on microelectronics, computer science, and medical industries…
The comfort of the team is very important to us, so we invested in motorized standing desks, Herman Miller ergonomic chairs and we always keep our computer equipment up-to-date: our working environment has to reflect the attention to details we're putting in our products.
Chief Operating Officer
Job Description
As Chief Operating Officer at Slate Digital in our Grenoble office, you oversee the ongoing projects developed by our 15 engineers on both technical and managerial aspects. You work closely with the HR and various department managers to assist with the company's strategic, human and administrative needs. Finally, you define and enforce company policies by working with management and our Los Angeles office.
Your great experience in project and employee management, your adaptability, your involvement and your fluency in English are your primary assets. Thanks to your technical experience, you easily understand engineers' language and you are able to challenge them in order to keep a high level of expertise in our product's development. Finally, your vision and proactivity will allow you to organize, manage and optimize the company's resources in a context of growth.
Your role will be essential in our development because you challenge each project in an innovative and constructive way with a view to the continuous improvement of our processes.  You will be expected to support the teams while being involved in Slate Digital's strategy. Our passionate and demanding teams are waiting for you!
Skills
Minimum of 5 years experience in a similar role (mandatory)

English proficiency (written and spoken) – Mandatory

Knowledge of software development highly required

Excellent communication and writing skills
Missions
Working with the leaders and managers of each team to make sure that everyone is technically challenged at all times and that they conduct ongoing technical surveys

Overlook the development of products, making sure that specifications, technical challenges and quality are respected within a well-defined frame

Following-up of the roadmaps of the teams in Grenoble
Link between Slate Digital teams in France and in the US

Writing of weekly reports on the objectives and results of the French teams

Participation in various working groups related to the definition of products and corporate strategy

Make sure that current & long-term priorities, as well as the company's vision,  are aligned across all the departments

Oversee 3rd party developers and technical partners' communication in cooperation with the development and support teams

Anticipation of team requirements and company growth, team structure and architecture related to the context, current team members and company needs

Managing and overlooking hardware purchases, budgets, following up computer and hardware use, needs, updates

Defining and enforcing company policies, procedures, and team work

Participating in the company culture, keeping employees motivated
About us:
Slate Digital is a brand recognized by the music industry and the world of audio. Our products, based on innovative technologies, are used by world-renowned sound engineers. We are an international company whose team is divided between Los Angeles (US) and Grenoble (FR).
Do you want to be part of a dynamic team within a growing company? Join us and take an active part in our evolution!
QA Specialist
Job Description
By joining our QA team, you are responsible for improving the quality of softwares developed by Slate Digital. In collaboration with the US-based technical support team, you assess the stability and compatibility of our softwares. You primarily carry out manual tests with the long-term goal of automating a large part of them and thus increasing the relevance, reliability and quality of our product tests. You defend the user experience with conviction, while maintaining a constructive dialogue with the development team.
You have a passion for IT, you know how to use macOS and Windows operating systems, and you appreciate the maintenance of a comprehensive IT fleet for testing. You share our attention to detail and our need for exemplary quality software!
By joining our team of experienced engineers and our modern technical environment, you help us to ensure customer satisfaction by continuously improving our products. Thus, you actively participate in the success of our company!
Missions and skills
2 years minimum of experience required on a quality engineer position in software publishing

Knowledge in scripting: Python, Bash…

Knowledge of C ++ appreciated but not mandatory

An interest in audio and experience with audio processing software is a plus

Improvement of the qualitative aspects of our products: audio rendering, user experience, graphical interface, performance, stability, compatibility…

Implementation, maintenance and evolution of hardware and software test platforms

Software and hardware compatibility monitoring and anticipation

Bug detection, analysis and reporting

Evolution of the continuous integration system (Jenkins Blue Ocean) and automation of the tasks guaranteeing quality (unit tests, non-regression tests, etc.) in collaboration with the development team.

Beta phase management
About us:
Slate Digital is a brand recognized by the music industry and the audio world. Our products, designed using innovative technologies, are used by world-renowned sound engineers. We are an international company with a team located between Los Angeles (US) and Grenoble (FR).
Do you want to be part of a dynamic and passionate team within a growing company? Join us and actively participate in our evolution!
C++ Developer
As an engineer, you will join the heart of our company by developing C++ code that will integrate into our products. You will also participate in the definition and evolution of our framework as well as our technical stack.
Share your curiosity, involvement and rigor! You will join an experimented team and you collaborate with our quality team and technical support team to ensure the stability and good performance of our softwares.
You have a good knowledge of C++ and you are creative. If you are a beginner, we will efficiently train you on our shared technical knowledge base, and your progress will be rewarded. If you are experimented, you will rapidly gain autonomy and responsibilities.
You have a good English and French as our companies are based both in France and the United States. All of our documentation and code base is in English.
Responsibilities
Specifications, prototyping and implementation
Products maintenance (more than 35)
Third-party integration
Technical watch
Training and team "master-classes"
Evolution and maintenance of our continuous integration system
Analysis and optimisations
Technical Stack
Our technical stack is continuously evolving as we are closely following the latest improvements of languages and tools.
C++ 11/14/17
Python: prototyping, tools, build system, etc…
CMake
Visual Studio, Xcode, Resharper, PyCharm, vim, notepad…
Mercurial, Git
Jenkins (Blue Ocean)
Libraries: Juce, Skia (Chromium GUI backend), OpenGL, Qt, Boost…
Our Company
Slate Digital is an award-winning, industry-standard brand of professional audio software that is used on many hit records made by world-renowned mixing engineers. We have a lot of ideas and perspectives, which is why we want to grow our technical team in order to develop and diversify our product range.
Do you want to work on innovative products and in an exciting environment ? Join us, the audio industry is fascinating!
Audio DSP Engineer
You are joining a team of 4 DSP engineers and you design new audio processing algorithms that are used in our products, destined to music mixing and producing. You also participate in the definition of features and products and you are responsible for their audio quality in collaboration with the QA and development team.
Thanks to your curiosity, rigor and perfectionism, you are able to manage the mathematical, research and critical listening aspects of your mission. Your creativity and perseverance allow you to design and develop the algorithms of our future products. You are passionate about audio and you want to combine your technical, mathematical and creative skills with it.
By joining our talented DSP team and our highly challenging technical environment, you work at the core of our company by participating in the creation of our products that are renowned for their audio quality. Thus, you actively participate in the success of our company!
Profile
Excellent knowledge of Digital signal processing (sampling, filtering, transforms…)
General background in digital audio
Programming (Python, Matlab, C++)
Analytical spirit, curiosity, creativity, inventiveness, willingness to find elegant solutions to complex problems
Ability to learn and adapt to new work techniques in a self-driven way
Missions
Design of audio effects algorithms.
Design of plugin prototypes.
Critical listening tests for prototypes and plugins validation.
Maintenance of a prototyping framework.
R&D on audio DSP related topics, keeping updated on technological changes.
Participation to product specifications.
Electronics experience is a plus, as well as musical background or mixing.
Our company
Slate Digital is a brand recognized by the music industry and the audio world. Our products, designed using innovative technologies, are used by world-renowned sound engineers. We are an international company with a team located between Los Angeles (US) and Grenoble (FR). Slate Digital is among the most respected names in professional audio, specializing in the industry's most authentic analog-modeled DSP software plugins, as well as creating the number one selling microphone and control surfaces in the United States. The world's most influential recording artists & engineers are among our customers, but we pride ourselves on being affordable, user-friendly, and accessible to anyone wanting to record, mix, and master audio.
As a growing company, our goal is to build an inspired and creative team pursuing industry-changing products.