The result of nearly three years of development, the new VRS8 Virtual Analog interface unifies Slate Digital's software and hardware into a robust audio ecosystem called The Virtual Recording Studio. We used a "no compromise" design approach, resulting in a fantastic-sounding eight channel audio interface that leads the industry when it comes to components, specs, price and performance.
CREATE A VIRTUAL RECORDING BUNDLE
Eight Ultra Linear Preamps
The start of any signal chain is extremely important, which is why the VRS8 features EIGHT high bandwidth Ultra Linear microphone preamps. These are the same 'blank canvas' design as the VMS-One preamp from our award-winning Virtual Microphone System, enabling you to use our modeling software to recreate the authentic sound of famous microphones and preamps. Each preamp has its own high-quality metal knob, so you can easily set levels like a regular analog preamp – instead of using single logic controller knobs and menus, as some of our competitors have chosen to do.
The next step in the signal chain is the converter itself. Instead of using budget components, the VRS8 offers mastering-quality conversion by incorporating the newest AKM AK5578 converter chips – offering a whopping industry-best 124db of dynamic range on all 8 inputs!
The sound of an audio interface relies on much more than the converter chip itself – all of the components in the audio circuit have a direct result on the audio quality. Keeping to our "no compromise" design aesthetic, the VRS8 utilizes high-quality WIMA capacitors for the entire audio path.
Part of the goal behind creating the Virtual Recording Studio was to provide a near-realtime experience when using our analog modeled plugins while tracking. In order to achieve that goal, we created a new technology called LLN, which stands for "Low Latency Native". LLN utilizes a custom hard-wired converter chipset, which reduces managed components in the audio path and allows an incredible 1 millisecond of latency at 96K (with a 32 sample buffer). This latency spec allows you to monitor through mic and preamp emulations while tracking, giving you the ability to hear your audio in context while still allowing you to change your mind later.
The audio clock is the heart of any recording interface, which is why it was important that the VRS8 had a killer clocking system onboard. We use satellite-grade XTC clocking technology, utilizing four temperature-compensated crystal oscillators for ultra-stable audio performance, keeping your audio jitter and distortion free.
Discrete Headphone Amplifiers
Most engineers listen to music on headphones when working in the studio, but headphone amplifiers are the first place that manufacturers usually look to cut costs when building an interface. Instead of using typical designs that cost mere pennies, we use discrete amplifiers to ensure that your headphones sound robust and clear for all of your monitoring tasks.
Our "no compromise" design goal extended well into areas that other manufacturers simply ignore, which is evidenced by the VRS8's native MIDI IO. Unlike USB MIDI interfaces (where MIDI information has to fight with your mouse, keyboard, and other USB traffic) MIDI IO on the VRS8 never touches the USB bus. You can count on hyper-accurate MIDI timing, and stuck sustain pedals when tracking keyboards and synths should become a thing of the past.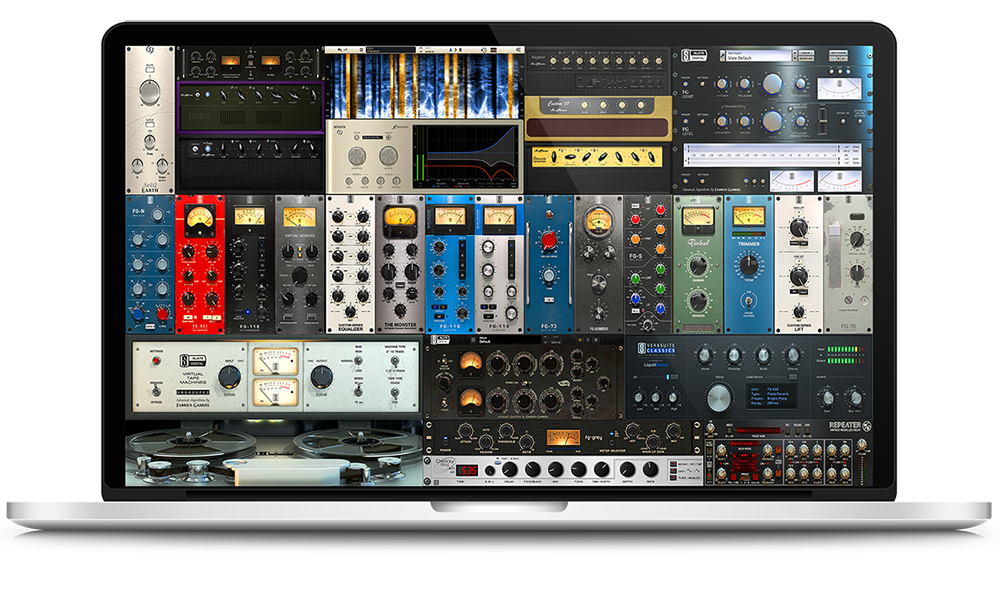 GET AN ALL ACCESS PASS
FREE FOR ONE YEAR!
The Slate Digital Virtual Recording Studio ships with a Year License of the All Access Pass. The All Access Pass includes all of the award-winning Slate plugins, worth thousands of dollars. Using the VRS8 and VMS Microphones, you'll be able to track through world-class microphones, preamps, equalizers, and more in real time.
Now you can experience the Slate Virtual Recording Studio including all of our microphone models. Click below to go to the VRS Experience page where you can download all the Slate plugins including demos of our VMS microphone plugins, as well as a multitrack session recorded with VMS mics through our VRS8 interface. When you download the plugins and the session, you can load up a track, and experiment with different world-class virtual microphones from the mic locker. Hear the vintage FET47F, 414, and ribbon 121. Try the vocals through the vintage tube 67s, 251, 47s and more.
VRS EXPERIENCE