Virtual Microphone System
ML-1 Vintage Edition
Why Have One Mic
When You Can Have Them ALL!
Introducing
The Virtual Microphone System ML-1 Vintage Edition
The ML-1 Vintage Edition takes our ultra linear microphone circuit from our VMS ML-1 Modeling Microphone and places it into a vintage 47 style body for the ultimate pairing of classic looks and modern technology.
The Slate Digital VMS ML-1 Modeling Microphone is a state of the art cardioid condenser microphone that was designed to be ultra linear, high resolution, and clean. It accomplishes this with a shock mounted, edge terminated, 6 micron, gold sputtered capsule that is meticulously tested to ensure the most pristine tone. When using a high quality and linear preamp such as the Slate Digital VMS ONE Ultra Linear Preamp, the ML-1 will provide the perfect blank canvas for the Slate Digital Microphone and Preamp modeling plugins. Combining the modeling plugins with the ML-1 will produce an entire locker of virtual microphones and preamps.
*Requires An iLok 2 or 3.
FIND A DEALER
Introducing
Classic Tubes 3 Expansion Pack
The Classic Tubes 3 Expansion Pack adds five new lush, vintage, and warm tube mics to the Virtual Microphone System mic locker. From German classics to custom hybrid Tube/Ribbon mics, these mics will help give your recordings a classic tone and feel.
*Requires the Virtual Microphone System hardware.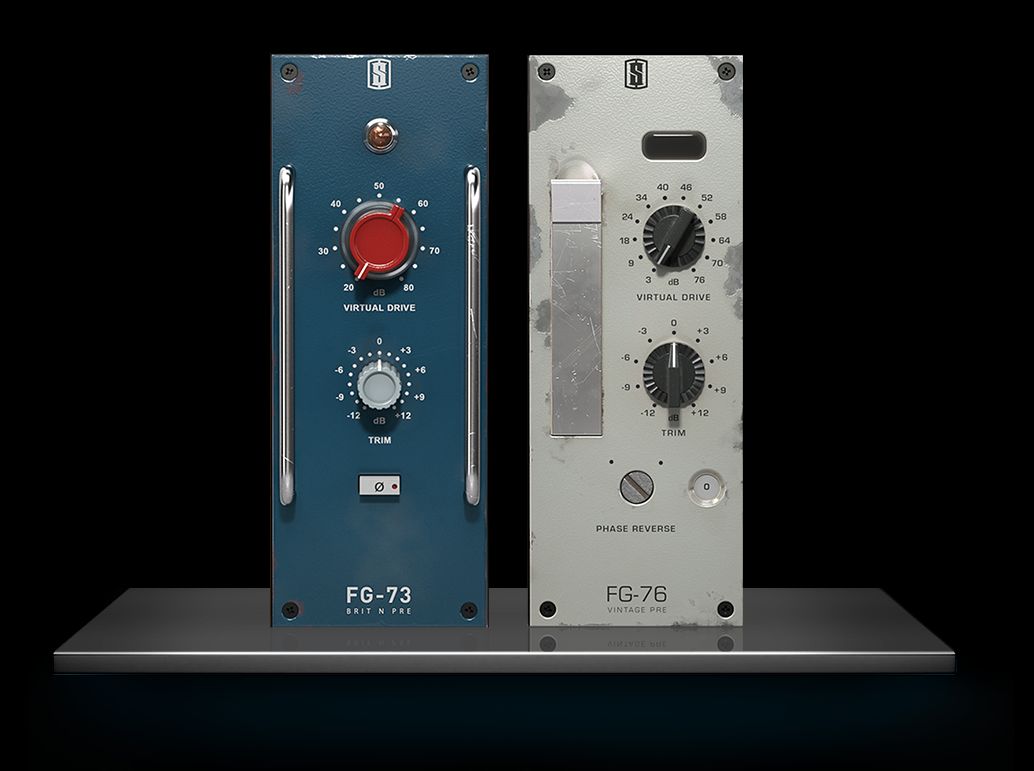 The FG-73 preamp module is modeled after one of the most famous discrete solid state preamps in the industry, made in Britain and used on countless recordings. It has a bold, present and warm sound that works great on any audio source – even full mixes.
The FG-76 preamp module is modeled after a vintage German tube preamp that has been used on many classic recordings. It has a thick and colorful tone that can make tracks and mixes sound more 'alive'. The bottom-end saturates in a very unique and musical way, making it a great module for bass guitar and kick drum tracks.
Now Available A La Carte for $799
The ML-1 microphone is the centerpiece of the Virtual Microphone System. This large diaphragm mic has a shock-mounted, gold sputtered, 6-micron capsule and a state of the art FET circuit path that ensures the most linear, flat, and clean 'blank canvas' response. Combined with the Slate Digital tube microphone modeling software, it can sound like some of the most classic microphones in recording history.
FIND A DEALER
The Virtual Microphone System software consists of the Classic Tubes microphone module, which contains eight classic tube microphone models, the FG-73 British discrete preamp module, and the FG-76 German tube preamp module. None of these processing blocks add any latency to the audio signal, so if you use a low latency interface with VMS you can track through the VMS software without any audible monitoring delay.
To accomplish this, we recommend a Thunderbolt or fast USB interface, recording at 96khz with the lowest buffer size possible. The combination of the 96khz sampling rate and low buffer size ensures the lowest possible latency.
FIND A DEALER
Now you can experience the Slate Virtual Recording Studio including our VMS ML-1 mic models. Click below to go to the VRS Experience page where you can download all the Slate plugins including demos of our VMS microphone plugins, as well as a multitrack session recorded with VMS mics through our VRS8 interface. When you download the plugins and the session, you can load up a track, and experiment with different world-class virtual microphones from the mic locker. You can hear the vocals through the vintage tube 67s, 251s, 47s and more.
VRS EXPERIENCE
Minimum
System Requirements
Recommended
System Requirements
Intel Mac 32bit: VST2, VST3, AU, AAX
Intel Mac 64bit: VST2, VST3, AU, AAX
Windows 32bit: VST2, VST3, AAX
Windows 64bit: VST2, VST3, AAX